Case Study: Hashrocket
This is a brief summary of my work with Hashrocket. If you'd like more information about my work with them, please feel free to contact me.
About The Client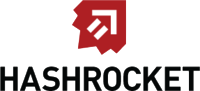 Hashrocket is a leading software consultancy that builds both mobile and web applications. They specialize in disciplined software engineering, using such techniques as agile project management, pair programming, user-centric design, and test-driven development.
Project Goal
Hashrocket engaged Eliza to travel to the various Hashrocket offices and round out teams that were short-staffed during the spring and summer of 2011.
Timeline: 2011
Results
"We have had the pleasure of working with Eliza on a number of client projects. Each time we work with Eliza she proves herself able to integrate seamlessly as an asset to the team. It is always a pleasure to work with her. "

— Adam Lowe, Project Manager